Secure, Affordable & Scalable Faxing in the Cloud
Cut Costs & Increase Productivity with the World's Leading Digital Fax Solution
Request a Demo
What is
Digital Faxing

In
The Cloud?

Digital faxing is a method of easily and securely sending and receiving a fax document via the internet. Inbound and outbound faxes are delivered directly and privately as unstructured document files to a personal web-based fax portal or directly to a personal, email inbox.

Fax technology has progressed from dedicated, standalone machines to cloud-based integrated services. Today, progressive companies are moving their fax infrastructure to the cloud. By eliminating concerns about system reliability, scalability, and hardware and software maintenance, companies are able to free internal resources to focus on core systems and processes.

Cloud faxing is used by thousands of people every day in multiple industries to quickly and securely transmit multiple types of documents. Cloud fax services are typically offered as a fully hosted online service, powered by a network of secure datacenters and colocations, often distributed across multiple countries.

How it Works
Do You
Need A Phone Line

For a Digital Fax?
No, you do not need a phone line to fax. An online fax service hosts all of a fax machine's infrastructure and can send a fax, in the cloud, without a phone line.
What is the difference

between a Digital Fax and an Email?

Email messages contain editable text, whereas a digitally faxed document is an unstructured, single image of a document, no matter what kind of data it contains. Digital faxes are encrypted and offer superior security, before sending, in transmit, and at its destination. Digital faxes are accepted when legal proof of receipt is needed, whereas emails are not. Additionally, digital faxes can be securely sent to multiple destinations, such as email lists or to paper-based fax machines, depending on the way it is coded.
What is the difference

between a Digital Faxing And Paper Faxing?

Digital faxing, also known as fax over internet protocol (FOIP), enables users to send and receive documents from any location with an internet connection. This is a game-changer for those using traditional fax methods because it provides them with an increased capability for fast, secure communication.

Digital faxing eliminates the need for paper, toner, and phone lines — all documents can be converted into digital files and transmitted over the internet securely and reliably. It is also known as internet faxing, eFaxing, or online faxing.
What Kind Of Companies Benefit Most

From Digital Faxing

Due to the multiple benefits of online faxing such as reduced costs and labor, increased efficiencies, and secure data transfer, several industries have adopted it, and many others are looking to move in that direction. Here's a list of six industries known to benefit most from digital faxing:
Healthcare Organizations
One sector that holds some of the most important client information is the healthcare industry. The secure exchange of data is crucial to hospitals and clinicians in order to provide patient care.
Online faxing has proven to be an excellent option for sending patient data to authorized personnel, due to its' secure transmission and encryption at every point of the document's journey.
Legal Firms
Law firms are known for creating and sending vast amounts of paperwork regarding evidence, agreements, research and general client information. The need to share these files with clients, courts, and other entities is a typical requirement. Legal firms require a secure way to transfer files to protect against alteration, hacking, or stealing of data.
Insurance Companies
All types of insurance entities, such as brokers, managing general agencies (MGAs), and third-party administrators (TPAs) — continue to rely on paper faxing to transmit documents containing highly sensitive client data, using outdated, paper-based faxing equipment.
Paper-based faxing creates several challenges. First, the cost of maintaining supplies and maintenance for outdated fax machines can be prohibitive. Plus, legacy fax processes leave significant security and regulatory vulnerabilities. Hardcopy documents containing clients' coverage details, personal data, medical records, or financial information can be easily viewed or taken by unauthorized personnel if left sitting on a fax machine or printer. Many forward-thinking insurance companies have chosen to upgrade from their legacy paper fax environments to digital cloud faxing in answer to these on-going challenges.
Banking and Finance
Digital faxing helps financial organizations respond quickly to clients, partners, and vendors. Faxing in the cloud also helps improve compliance with key regulations and standards such as SOX, FINRA, PCI-DSS, and GLBA. Digital faxing not only decreases the administrative burden of manual document processing for staff members, but it also enables banks and financial institutions to send and receive digital faxes immediately, anywhere, anytime..
Government Institutions & Agencies
State, local and federal government staff members continually send or receive documents of significant importance, so there's always a need for security and verification. While, some government departments may opt for the outdated practice of sending documents through mail, digital faxing offers the same legal results, with increased security, in far less time. It also reduces the costs incurred for mail delivery and verification through the United States Postal Service.
Real Estate
The real estate market involves realtors connecting sellers and buyers. Many documents such as titles, home photos, credit reports, mortgage approvals, and others are often exchanged between different parties. By using online, digital faxing, realtors can easily connect with clients, brokers and banking institutions across different platforms and locations.
What Is
Interoperability

In Healthcare

Interoperability in healthcare refers to the industry-wide goal to enable the seamless and efficient transmission of patient data from one healthcare organization to another regardless of the systems, applications, or data formats.

Standards have emerged to help facilitate interoperability among healthcare organizations. The challenge: providers, insurers, and other organizations throughout the healthcare ecosystem use different types of platforms, languages and protocols to send, share and receive patient data. The first stop to solving that problem is to get rid of the paper fax machine, and architecture, and move to the leading digital cloud fax solution.
How Does Digital Cloud Faxing
Enhance Healthcare Interoperability
True Interoperability solves multiple healthcare challenges by enabling multi-functional data exchange, collaboration and communication inside and outside of the hospital's doors.
Vast amounts of paper documents and unstructured data are generated from healthcare providers and payers. The challenge is not just in security, storage and access but also in making this data usable and actionable.
Digital cloud faxing Increases efficiencies, reduces costs, and helps providers and payers to securely exchange the patient data they need to accurately treat patients, while decreasing the administrative burden on clinicians and staff members.
What Workflow Processes Can Benefit

From Digital Faxing In The Cloud?
A workflow is simply the series of repeatable steps to complete a task.
For example, one common workflow optimized by digital faxing is the process for prior authorization (PA) submittals and approvals by healthcare providers. How do hospital clinicians' submit a prior authorization (PA) request for a treatment or prescription? With most health insurance plans, multiple forms would need to be submitted for each PA. And it's likely that this paperwork request would be sent to the insurer via a paper fax machine.
That means taking many manual, repetitive steps to complete this workflow process, such as: filling out the PA paperwork and draft sheet, printing out the document, manually faxing the paper document to the insurer's fax number, waiting for a confirmation receipt, and then filing the document securely.
All document processes necessary for paper faxing become automated and secured at every step during digital faxing. With solutions such as eFax Corporate, digital faxes are encrypted prior to sending, during transmission, and when the fax is received by the recipient.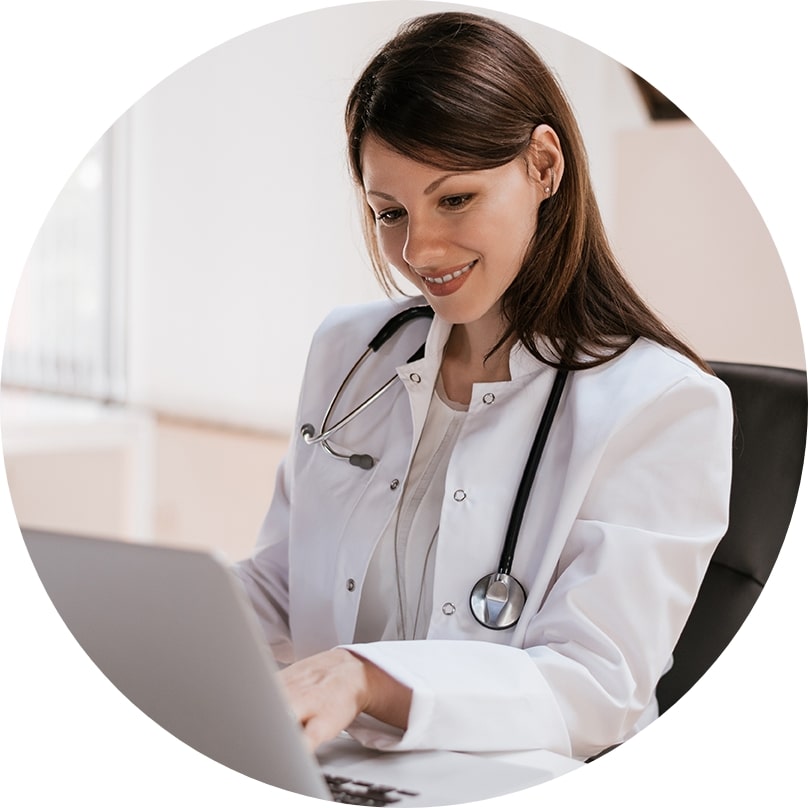 Digital Faxing

& Unstructured Documents

Despite the availability updated technology, many enterprises still use paper faxes to submit their most sensitive information.

When a digital fax is transmitted in the cloud, a document is transformed into an unstructured data file, or a "picture" of the document. When a digital fax reaches its intended recipient it is accompanied by a confirmation page. This confirmation page serves as legal proof that the document has securely reached its destination.
Unstructured Documents VS.
Structured Data
Structured data consists of clearly-defined data that have patterns and key-word matches, making them easily searchable, while unstructured data (e.g., everything else) is composed of random information that is not categorized or organized in a meaningful way, such as scans, images and video. Natural Language Processing and Artificial Intelligence technology, such as Consensus' Clarity , can be applied to unstructured digital faxes and transformed to structured data for intelligent data extraction, leading to streamlined workflow and increased efficiencies.
What are the benefits of
eFax Corporate
From Consensus Cloud Solutions
Cut costs & save time across your enterprise with eFax Corporate®
eFax Corporate, the world's #1 ranked, digital fax solution, provides a cost-effective alternative to fax machines and in-house fax servers, ideal for growing businesses, and high-volume faxing.
Send & Receive Faxes from Anywhere
Safe, Secure & Encrypted Faxing
Meet Regulatory Compliance HIPAA, SOX, GLBA & PCI
No Fax Maintenance or Phone Charges
View, Crop, Edit & Annotate Faxes
Admin Portal, Desktop Tool, Dedicated Account Manager & 24/7 Suppo
Learn more about eFax Corporate